Snow Leopard Earrings
The outer shape of the piece has been inspired by the shape of old-style snow-shoes – in much the same way as people use these shoes in the mountains, a snow leopard's large paws help to spread and support its weight as it prowls across the surface of the snow.
Click here to see samples of the Snow Leopard Range - more images coming soon!
Wildlife First Aid Courses: Moe - 16 & 17 September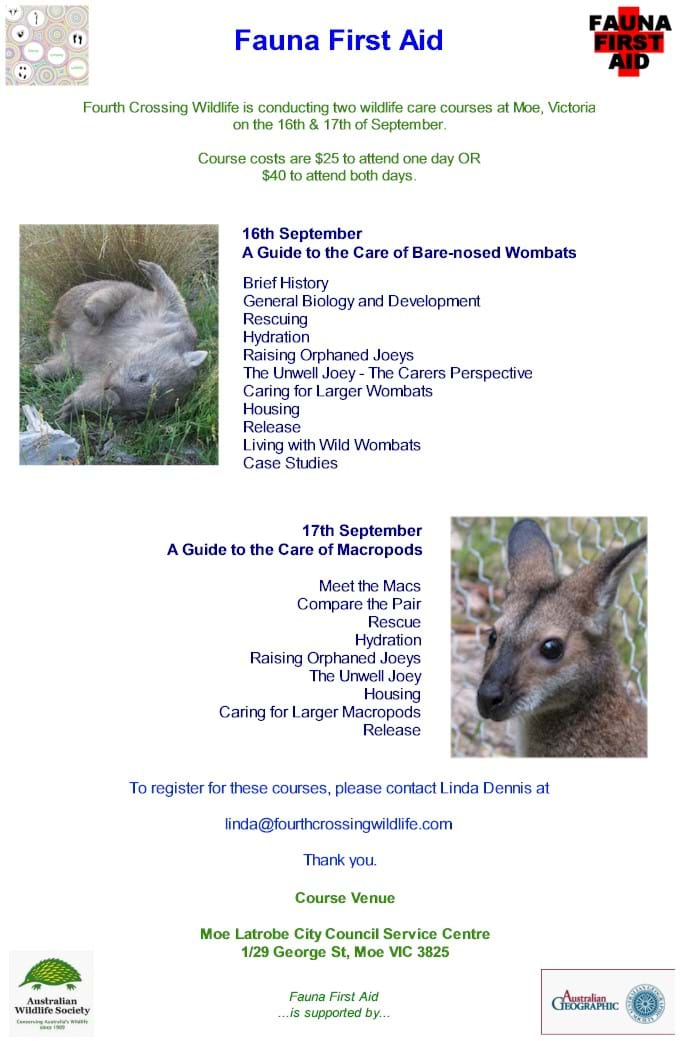 Click here or on the image to download the flyer for Fauna First Aid courses to be delivered at Moe on 16th and 17th of September.
On the 16th - the Bare Nosed Wombats
And on the 17th - the Macropods - which literally means "Big Feet" - kangaroos and wallabies large and small
The Little Penguins of Manly Fundraising Lunch: 31 August 2017
Save the Date!
On Thursday 31st August, the Foundation for National Parks and Wildlife (FNPW) will be holding a charity lunch at Hugos to raise money to help protect Manly's beloved and endangered colony of Little Penguins. Bushprints Jewellery wishes the fundraiser every success and has donated some pieces of Penguin themed jewellery toward the event through the Manly Volunteer Penguin Wardens.
Click here to download the flyer for the lunch.
The Manly Volunteer Penguin Wardens try to ensure that Little Penguins can breed in safety away from human or dog interference through:
Patrol of beaches and Penguin breeding areas
Prevention of dogs on beaches and unleashed within 50m of penguin nesting areas
Prevention of contact with penguins or nesting areas
Prevention of flash photography of penguins
Public education about penguins and legislation regarding dogs, boating, interference and fishing
To read more about their work click here.
At last we've got the polar bear cufflinks completed.
The biggest bear in the world, they are believed to have evolved after some Siberian brown bears were separated by glaciers.
Adapting to arctic conditions, they grew white fur (though their skin is black underneath to absorb the heat from the sun) and of course, became great swimmers!
Possum trails in Carlton Gardens
Walking through Carlton Gardens one evening I saw so many possums running from tree to tree that I realised that what I'd thought was grass damage due to the laying of water pipes or something may actually be possum trails! I came back in the daytime to take photographs of the trails, and then again at night to film them using the trails as I'd seen before. Sadly it was rainy and the possums refused to perform. I'll have to try another night.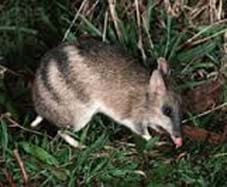 Eastern Barred Bandicoot
The eastern barred bandicoot has been considered extinct in the wild on mainland Australia since 1991. Zoos Victoria has been collaborating with several organisations running captive breeding and reintroduction programs. Recently, in August 2015, 16 mating pairs were released on fox-free Churchill Island, managed by Phillip Island Nature Parks. Click here to read more.
Male bandicoots only consort with females for mating. When the female does not respect her mate she bites his bottom or his ears! The bandicoot's middle two toes are syndactylous (they are joined together except for the claw, which gives their tracks their distinctive shape.)
Sleepy Burrows Wombat Sanctuary
I have to share this lovely picture of wombat feet, which I discovered on the Sleepy Burrows Wombat Sanctuary website and they kindly allowed me to reproduce here. It shows the footprint I have tried to represent in my jewellery so perfectly!
You can see more beautiful pictures of wombats at the Sleepy Burrows website - click here. And they are having a fundraiser on October 17 at Murphys Bar & Grill in Unanderra, NSW - click here to see flyer.
---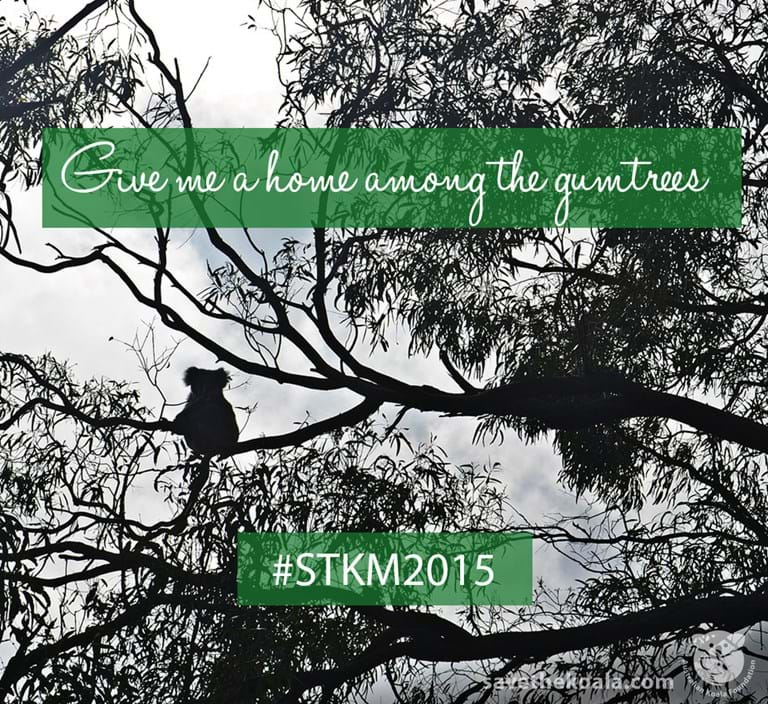 September is Save the Koala Month at Australian Koala Foundation
The theme for this year is "Give me a home among the gumtrees" which we think is the perfect way to highlight what Save The Koala Month is all about!
The Australia Koala Foundation (AKF) has invited Koala lovers to take part in its annual fundraising and awareness campaign. If you would like to participate you can help by ordering a donation box, creating your own fundraiser, ordering merchandise or simply spreading the word.
You can get all the details on AKF's Facebook by clicking here or on the picture - and share your ideas and efforts with the hashtag #STKM2015!
---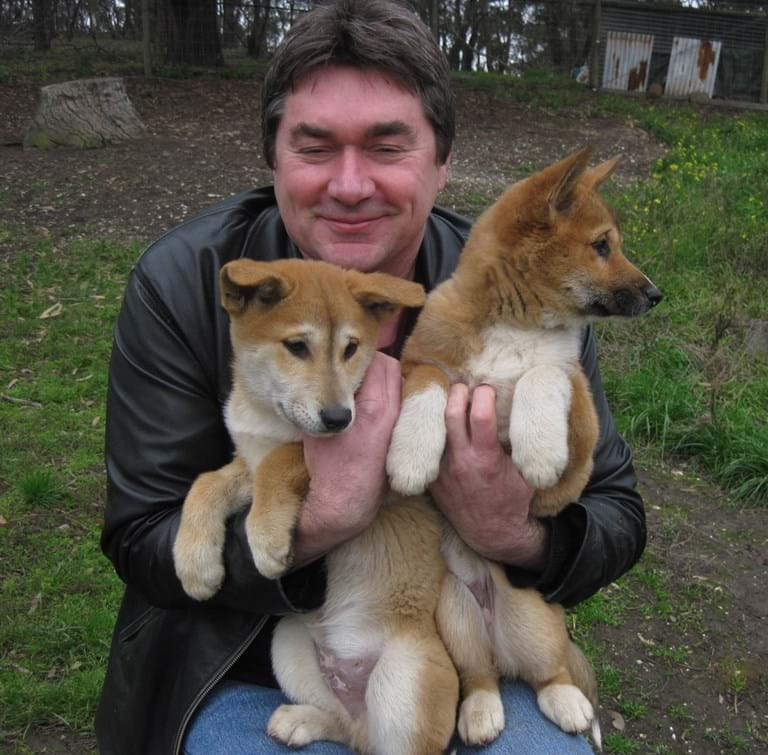 Dingo Discovery Sanctuary welcomes 2015 puppies
The Dingo Discovery Sanctuary was formed to protect and preserve the pure species of the Australian Dingo. This year's first litter of pure bred puppies arrived on 3 June 2015, and now you can meet and cuddle the full contingent during the open days being held every weekend until mid August. Its a wonderful experience. Last time I was there I noticed that although some of my clothes had muddy pawmarks (it was raining) there was absolutely no wet animal smell whatsoever. And that is the least of all their amazing attributes - they are truly remarkable animals. Bookings are essential as seating is limited, and children must be over 7 years old. Click here or on the picture to get a copy of the flyer if you'd like to pay a visit. The centre is at Toolern Vale in Victoria.
---
Taking Care of Bushprints Jewellery
Bushprints Jewellery is not plated as we prefer the natural properties of precious metals. The pieces will oxidise (react with exposure to the air) over time and can acquire intriguing depths of colour and texture. Oxidation is the natural reaction of the alloyed metal to the air around it, however not all oxidation necessarily makes a piece more attractive! If you find your piece is appearing dull and tarnished, rather than richer and more intriguing, and wish to restore it to its original shiny look, simply rub gently with a soft cloth to which you have added a small amount of silver or gold polish. Then rinse thoroughly in warm water and pat dry carefully using a lint-free cloth or tissue. Should your piece become severely tarnished, a polish at a local jeweller will restore it to its best. And of course, feel free to contact Gary with any concerns or queries.